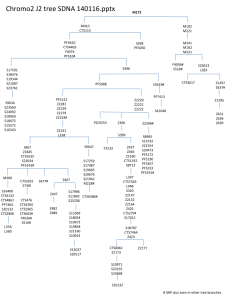 Chromo 2 Y-DNA Y-SNPs covered from the current research tree
offered since late 2013 by BritainsDNA and associated companies ScotlandsDNA, IrelandsDNA and YorkshiresDNA. Results file with ~2000 chromo2Y results. Chromo2 J2 tree SDNA 140116 provided by Dr. Angelika Kritz.
Only Haplogroups/SNPs in Bold and/or Black are recognized/covered, those in grey not. # SNP also seen in other tree branches.
J2a–M410,CTS113

J2a1-PF4610,CTS4403,F4074,PF5104

J2a1a-L27/S396

J2a1a1-PF5088

J2a1a1a-PF5125,PF5116

J2a1a1a1-Z2229,PF5122,Z2281,Z2279,Z2224#

J2a1a1a1a-Z6065

J2a1a1a1a1-Y7708

J2a1a1a1a1a

–

M47,L290

J2a1a1a1a1b

–

Z39478

J2a1a1a1b-Z2231,L558/PF7408

J2a1a1a1b1-M67/S51,Z1845,CTS5535,S23034,PF5143#

J2a1a1a1b2

–S23154,S12431

J2a1a1a1b2a-S9647,S17661

,(M319)

J2a1a1a1 approx.

M339

J2a1a1b-Z2220, Z2222, Z2221/PF5160

J2a1a1b1-Z396,

L24/M530/S286

J2a1a1b1a-S399/L25/PF5345

J2a1a1b1a1-Z438

J2a1a1b1a1a-Z437,Z2160,CTS1192,S8712

J2a1a1b1a1a1-L397,L948,S320,Z425,

J2a1a1b1a1a1a-PF5440.1/Z435.1

J2a1a1b1a1a1a1-CTS6061,Z2173

J2a1a1b1a1a1a1a-PF5456

J2a1a1b1a1a1a1a1-S10971,S23155,S23668,S11348

J2a1a1b1a1a1a1a3 approx.

L396

J2a1a1b1a1a1a2-Z2177

J2a1a1b1a1a1a3-PH2725

J2a1a1b1a1a1a4 approx.

M137

J2a1a1b1a2

-PF5294

J2a1a1b1a2a

-L243

J2a1a1b1a2b-PF5366

J2a1a1b1a2b2-PF5383

J2a1a1b1a2b1-FGC4999

J2a1a1b1a3-F3133

J2a1a1b1a3a-Z7706

J2a1a1b1a3a1

-L192.2

J2a1a1b1a3a1a

-L271

J2a1a1b1a3a1b-FGC30635

J2a1a1b1a3a2-FGC9883.1/Y13534.1

J2a1a1b1a3a2a-FGC9961/Y14696

J2a1a1b2-Z2396#,

PF5197/Z2397

J2a1a1b2a-PF5172,PF5190,PF5233

J2a1a1b2a1

–PF5191#,PF5207,S8965,S13732,S21554,S20473

J2a1a1b2a1a-FGC16096,FGC16141

J2a1a1b2a1a1

-S15439,S17366,L198.1,L433,L88

J2a1a1b2a1a2

-L250.2

J2a1a1b2a1b

-PF5174,PF5215

J2a1a1b2a1b2

-S19231,S25079

J2a1a1b2b-Z7430

J2a1a1b2b1-Z7391.1

J2a1a1b2b1a approx.

YSC0253.1

J2a1a2-Z6064

J2a1a2a

-Z6063

J2a1a2a1-Z6057

J2a1a2a1a-SK1366

J2a1a2a1b-S5619#,

PF7414

J2a1b-S17591/Z6049,S18476/SK2198,S19344,S21087,S23761

J2a1b1-S18075,S9634,S24092,S10343,

(Z6048)

J2a1b1a

-S23891,S22011,S23560

J2a2-PF5050

J2a2a approx.

L581/PF5026/S398

J2a2a1

-PF5054,PF5062

J2a2a1a Inv.

PF4997


J2a2a1a down.

PF5045

J2a2a1a1

P279

J2a2a1a3 approx. Inv.

PF5020

J2b-M102,M221

J2b1

–

M205

J2b2

–Z575,CTS2622/Z1827

J2b2a-M241,Z605

J2b2a1-L283,S23613

J2b2a1a Inv.

Z590

J2b2a1a1

-Z628,Z615

J2b2a1a1a-Z638

J2b2a1a1a1-Z1296

J2b2a1a1a1a-Z1297

J2b2a1a1a1a1-Z1295

J2b2a1a1a1a1a-Z631,Z636,Z639

J2b2a1a1a1a1a1

-CTS9038/Z1048

J2b2a1a1b-CTS3617

J2b2a2-Z2444,Y977,Z2432

J2b2b

–CTS6812/Z2454,

Z2456

J2b2b1 Inv.

CTS8204

J2b2b1a approx.

CTS9636,CTS11996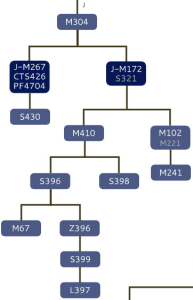 Older structure from earlier results
Chromo2 public spreadsheet analysis by Greg Magoon for J2
  |  |  |  |  |  |  |        +C1814 J-M172 J-M241     
  |  |  |  |  |  |  |     +-182  
  |  |  |  |  |  |  |     |  +C294 J-M172 J-M241      
  |  |  |  |  |  |  |  +-181  
  |  |  |  |  |  |  |  |  |  +C1815 J-M172 J-M241     
  |  |  |  |  |  |  |  |  +-183  
  |  |  |  |  |  |  |  |     +C293 J-M172 J-M241      
  |  |  |  |  |  |  |  |  
  |  |  |  |  |  |  |  |     +C296 J-M172 J-M410      
  |  |  |  |  |  |  +-180  +-185  
  |  |  |  |  |  |     |  |  |  +C1942 J-M172 J-M410     
  |  |  |  |  |  |     |  |  +-186  
  |  |  |  |  |  |     |  |     +-C295 J-M172 J-M410      
  |  |  |  |  |  |     |  |  
  |  |  |  |  |  |     |  |     +C300 J-M172 J-S396      
  |  |  |  |  |  |     |  |  +-192  
  |  |  |  |  |  |     +-184  |  |  +C1754 J-M172 J-S396     
  |  |  |  |  |  |        |  |  +-196  
  |  |  |  |  |  |        |  |     +C299 J-M172 J-S396      
  |  |  |  |  |  |        |  |  
  |  |  |  |  |  |        |  |     +C303 J-M172 J-S396      
  |  |  |  |  |  |        |  |     |  
  |  |  |  |  |  |        +-191  +-195  +-C1989 J-M172 J-M67     
  |  |  |  |  |  |           |  |  |  |  
  |  |  |  |  |  |           |  |  +-188-C1913 J-M172 J-M67     
  |  |  |  |  |  |           |  |     |  
  |  |  |  |  |  |           |  |     +C298 J-M172 J-M67      
  |  |  |  |  |  |           |  |     |  
  |  |  |  |  |  |           |  |     |  +C1770 J-M172 J-M67     
  |  |  |  |  |  |           +-187     +-189  
  |  |  |  |  |  |              |        |  +C1943 J-M172 J-M67     
  |  |  |  |  |  |              |        +-190  
  |  |  |  |  |  |              |           +C297 J-M172 J-M67      
  |  |  |  |  |  |              |  
  |  |  |  |  |  |              |     +C302 J-M172 J-S396      
  |  |  |  |  |  |              |  +-194  
  |  |  |  |  |  |              |  |  +C301 J-M172 J-S396      
  |  |  |  |  |  |              +-193  
  |  |  |  |  |  |                 |  +C304 J-M172 J-S399      
  |  |  |  |  |  |                 |  |  
  |  |  |  |  |  |                 +-197  +C1941 J-M172 J-L397     
  |  |  |  |  |  |                    |  |  
  |  |  |  |  |  |                    +-177-C1912 J-M172 J-L397     
  |  |  |  |  |  |                       |  
  |  |  |  |  |  |                       +C1813 J-M172 J-L397     
  |  |  |  |  |  |                       |  
  |  |  |  |  |  |                       |  +C1999 J-M172 J-L397     
  |  |  |  |  |  |                       +-179  
  |  |  |  |  |  |                       |  |  +C292 J-M172 J-L397      
  |  |  |  |  |  |                       |  +-178  
  |  |  |  |  |  |                       |     +C291 J-M172 J-L397      
  |  |  |  |  |  |                       |  
  |  |  |  |  |  |                       +C290 J-M172 J-L397