Y-DNA DTC Tests Paternal Line
Every genealogically connected surname/clan for genetic genealogy and serious research should consider:
For Expert Y-DNA Researchers
---
Share Results – Join Public Projects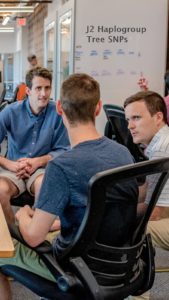 Take every opportunity to advance the research and knowledge. Join the available Projects and ressource:
Learn & Discuss
J2-M172.info Goals
Resource to gain a clearer picture about the history and nature of the fascinating Y-DNA haplogroup J2 (J-M172), and especially, its sub-clade structure and the distribution of ethnic groups among the clades.
Discover where a kit/sampe/lineage fits into the big family tree of J2 and find new defining SNPs. Updated versions of the haplogroup tree can only be kept by automatic systems and possibly refined trough manual research by combining data.
Increase participation in countries (and ancestry places) with few NextGenSeq J2 results to find more informative clusters in historical time: Turkey, Armenia, Georgia, Azerbaijan, Russia (North Caucasus, Murmansk), Iran, Iraq, Lebanon, Syria, Israel, Jordan, Saudi Arabia, Bahrain, UAE, Oman, Yemen, Egypt, Sudan, Eritrea, Ethiopia, Somalia, Libya, Tunisia, Algeria, Morocco, Greece, Balkans, Italy, Austria, France, Turkmenistan, Uzbekistan, Afghanistan, Tajikistan, Kyrgyzstan, Kazakhstan, Pakistan, India, Sri Lanka, China (Tibet), Vietnam, Indonesia, Madagascar.
The Team as independent volunteers cannot carry out research on relations in individual family lineages (genealogical time, private haplogroups) in this large project which includes the entire old J2 haplogroup and thousands of participating kits/samples.